WHISPERING OAK ELEMENTARY
2023-2024
Classes start September 6th !!!
We are so happy to be back at Whispering Oak Elementary for the 2023-2024 school year!
This is a performance-based class in which students will learn the important aspects of acting, movement, voice, and stage production.  
This year our class will perform Seussical Jr. 
PERFORMANCE DATES MAY 2024 : TBA
Everyone that registers WILL be in the show, though we will hold individual character auditions, and it will be up to the children whether or not to do a speaking or non-speaking role. Often times this is their first experience with theater, and it is important that it be approached so that they all feel comfortable and safe in their participation as opposed to being thrown into a role they might feel overwhelmed with, as that can cause feelings of negativity and hinder them in their natural progression in self-confidence and self-awareness.

Classes are every Wednesday (unless the school is closed for a holiday), after school from 2: 00-3: 15pm in the Music Room. The first month is $ 95 ($ 65 tuition and $ 30 registration fee), then $ 65 tuition every month after. We also offer a $5 sibling discount on monthly tuition.
* Due to the fact that this is a performance-based class, a commitment to the program is vital. This is to ensure that our cast grows together as a whole and performances are not compromised!
Payment Policy: Upon registration and initial payment of $95, the credit card used will be put in our auto-pay system and will be automatically charged $65/month on the 1st of every month through May 2024.  Should the need to withdrawal arise, notice must be given by the 15th of the month in order to cancel your auto-pay. There are no refunds given for missed classes. Any declined payments will result in a $25 fee.
We are looking forward to another fantastic year at WOE! To register, please fill out the form below. Upon completion of your registration, you will be directed to our payment page to pay the Registration fee/1st month's tuiton in order to complete your registration.
---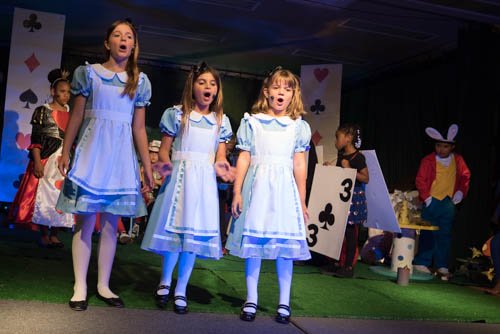 ---
---