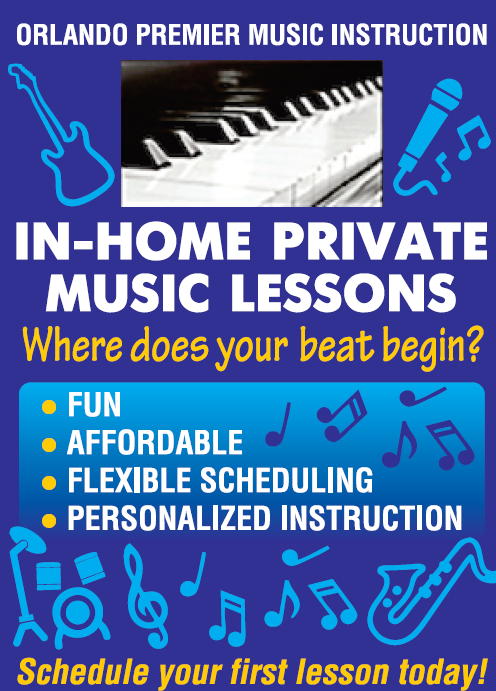 Orlando Premier Music Instruction (OPMI) - Your place to find the highest quality Orlando music lessons for piano, guitar, voice, woodwind, brass, drums and more with our professional and friendly music teachers, flexible scheduling, lessons that suit your style & ability , and much more!
At OPMI, we look forward to providing an exciting and positive learning experience on your own instrument in the comfort of your home for you and / or your child. SAVE on travel expenses and valuable time - there is NO traveling to and from a studio or waiting around during lesson times. OPMI music instructors come to you!
---
Learning to play a musical instrument is an exciting and enriching activity. It can strengthen motor skills, build self confidence, and broaden creativity. Statistics have shown that music can also strengthen problem solving skills and better develop the areas of the brain used in math and science.
Lesson Options 
We offer 30 minute, 45 minute, or 60 minute (our best deal), lessons weekly in your home.  
We will pair you with our highly qualified, professional music teachers based on your musical interest, learning needs and ability. We work around your busy schedule to find a weekly time that works best for you. At OPMI, there are NO registration fees or long term contracts! You can start or stop taking music lessons at anytime!
Please see our Lesson Policies below for more information regarding our standard private lesson policies. 
Discounted Lesson Packages are a great way to get even more bang for you buck! 
8 week lesson package save 5% off total cost of lessons!           (All lessons must be used within 15 weeks or unused lessons are forfeited).
12 week lesson package save 10% off total cost of lessons!      (All lessons must be used within 15 weeks or unused lessons are forfeited).
Our Discounted Lesson Packages are only offered for hour-long weekly lessons and must be paid in full before the start of your lessons. There are no refunds given for any unused weeks of your package. Our standard 24-hour Cancellation/Reschedule Policy does apply.
---
LESSON POLICIES
PRIVATE MUSIC LESSONS  consist of one 30, 45, or 60 minute session per week. 
Student scheduling is coordinated by OPMI or your private music instructor.
We require a 24 hours notice to be given in order to reschedule or cancel a lesson. If 24 hours notice is not given, you forfeit the option for a make-up lesson and/or a lesson credit.
LESSON PAYMENT PROCEDURES  -
Lessons are offered on a monthly fee basis. An invoice will be sent either electronically or through the mail at the end of the month. Payment for each month's lessons are due by the 15th of that month. (This does not apply to Lesson Packages)
Any payment received after the 15th of the month will be subject to a $25 late fee.
Payment may be made by Check, Venmo, CashApp, or Credit Card, (using our quickpay link. All checks must be made out to Orlando Premier Music Instruction,  not to the teacher.  We do not accept any post dated or second party checks. Any checks returned from the bank, no matter what the reason, will be charged a $ 30.00 bank and administration fee.
CANCELLATIONS  -
1)  If a teacher arrives at home and the student is not available, the lesson will be charged in full with no option to reschedule.
2)  If there is a need to cancel or reschedule a lesson, 24 hour notice must be given in order to receive a make-up lesson or a credit on your next month's bill. You may cancel or request to reschedule lessons by contacting your music instructor or Joanna Crews through OPMI. If 24 hour notice is not received, payment for the canceled lesson will be required without the option of a make up lesson.
3)  All teacher cancellations will be made up at the earliest convenience for both student and teacher. 
4)  If a lesson needs to rescheduled within the Cancellation Policy guidelines, there are two options to make up the lesson: A lesson can be rescheduled to a different date or you may ADD time to future lessons.
5) Stop taking lessons anytime! We do not hold students to any contract. If you wish to terminate lessons, please notify your music instructor or OPMI at least two weeks in advance. (There are no refunds given for pre-paid discounted lesson packages).
---

"So, what's YOUR favorite musical instrument?" OPMI specializes in teaching:
PIANO - GUITAR - VOICE
BRASS - WOODWINDS - DRUMS - VIOLIN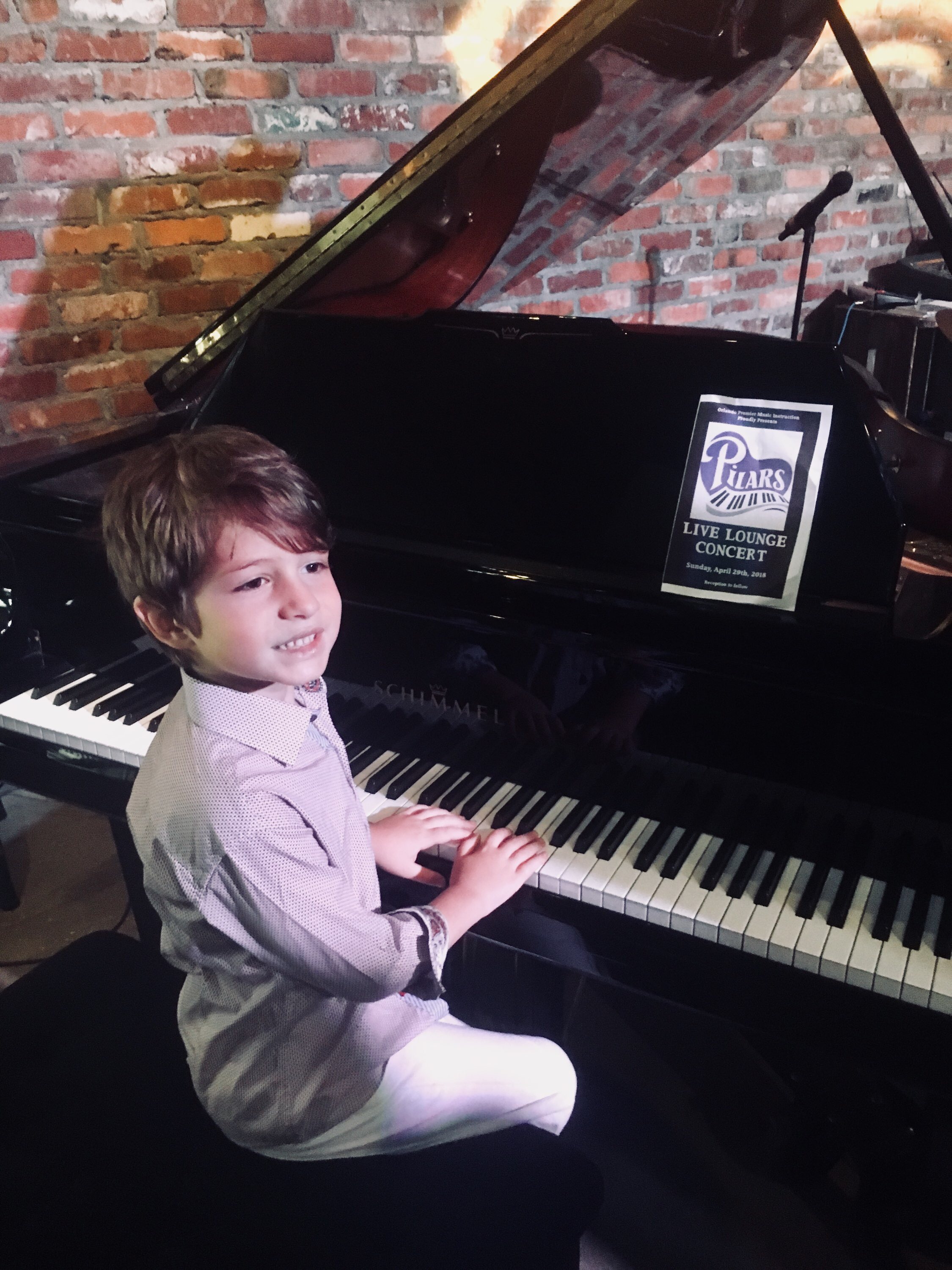 Do you have questions about private piano, guitar, or voice lessons? See our Contact Us page or fill out the  ENROLLMENT Form. You will receive an email within 24 business hours to answer any of your questions and arrange your first lesson.
---